I didn't understand why Yahoo! felt need of coming up with Videos over Flickr when it is already hosting Yahoo! Video – a full fledged video hosting website…perhaps trying to replicate Google moves as they had added another video service – YouTube to their armor when they were already having Google Video. But for Google, it was a deadlock situation and they couldn't merge two services. I couldn't understand why Yahoo! will create such confusion intentionally.
Here comes Flickr Video and thousands of people are protesting against it. Here are two groups over Flickr raising their sound over unexpected service over Flickr – We Say NO to Videos on Flickr and NO VIDEO ON FLICKR!!!.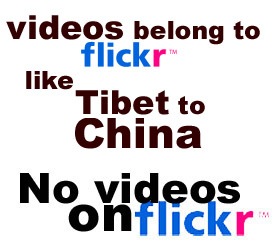 Hats off to copy rights in Web 2.0!!