I was reading this article in March 08 issue of Digit yesterday and it discusses about how your social activities over web affect your job possibilities the way they can be linked with your resume / job profile. As if you are member of online beer community, writing crap over content websites, addicted to gaming websites, then these online profiles can prove to be fatal to your job endeavors.
Beware the communities and groups you associate yourself with on social networking sites. If your interests contradict how you present yourself on your resume, you could land into big trouble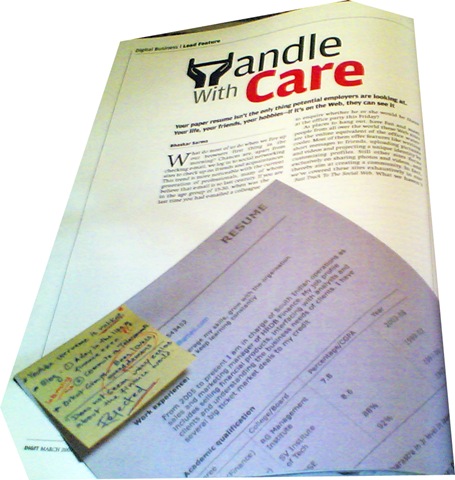 I don't agree with that. If you fulfil the job requirements and thrash the interview, there is very minor chance that still any employer would like attention to these details. And Digit devoted 2+ pages over that…
PS: I have been reading this monthly tech tabloid for exactly last eight years and is my favorite tech paper-based magazine.
—————-
Now playing: Maine Tere Liye Hi Saat Rang Ke Sapne Chune (Anand)