She was one of the top model appearing in the best of advertisements with brands like Lakme. She was a designer turned model who once walked over ramp with Miss Universe 1994, Sushmita Sen, in the 90s and others of same class. She fell into love, was refuted. Then got married, had son, turned herself down, tried to live on drugs and now, struggling for coming back to life. She has turned herself almost into junkie and doesn't know about things happening around her. If she is asked about fashion, it sounds nuclear fission to her…hobbies appears as that in Calvin and Hobbes.
She is Gitanjali Nagpal (it was interesting to see that one online version of newspaper writes her name as Gitanjali and other of same paper as Geetanjali and same way is followed by the blogger in story, as she writes her name Geetanjali as well as Gitanjali as in link inside the post).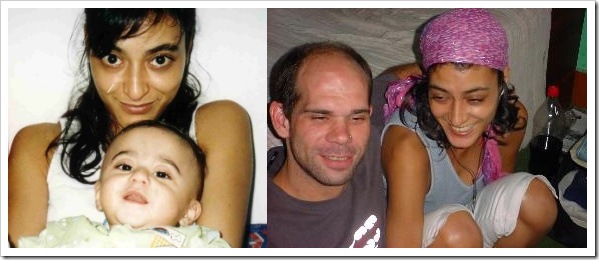 (photo from Sheetal's blog)
Times Of India spotted and covered her story from rich to rags in one of its news articles which is still buzzing over front page of newspaper even after a week.
The column was replicated as is by a blogger named Sheetal Sethi over her blog along-with her image which made Gitanjali's husband find her. Gitanjali's husband, Robert Stuempfl, had to produce their marriage certificate, their child – Arthur's (staying with Robert) birth certificate and his photos with the child as proof. Her husband wants to takes custody of her sick wife so that he can get her treated to the best under his supervision. Robert also has talk with the blogger over the same matter.
Since then, news is flashing over the front page of paper and I happen to read the news almost everyday. Here is the text from original story –
Gita's story: From catwalk to sidewalk'

In the '90s, Gitanjali Nagpal sashayed down the catwalks of Delhi with the likes of Sushmita Sen. A Navy officer's daughter who went to Lady Shri Ram College, she seemed set for a flashbulb career in fashion. On Sunday, they found her living off the streets and spending her nights in parks and temples. And by Monday, she was being hounded by TV cameramen, reporters and do-gooders. Gitanjali's sad story had just taken yet another weird turn.

It's a horrifying story of the dark side of glamour: how one false move can send a promising career to a downward spiral of drugs and self-destruction. By her own admission, the ex-Mount Carmel student worked as a maid, spent her nights with men for money to quell her craving for drugs and alcohol and was in the end reduced to a life on the footpath. Gitanjali's estranged husband lives in Germany with her child. And, touchingly, he still waits for her.

''Do you still like fashion?'' TOI asked. ''I like fission, nuclear fission.'' Her punning was compulsive. ''What are your hobbies?'' ''Hobbies as in Calvin and Hobbes,'' she retorted in a clipped accent. Then she said, ''I like walking and sleeping. I look at shops and check out latest designs.''

Not everything she said made sense. She said, ''I have no clue where I am going. I have a hotel in outer space.'' When offered a toffee, she said, ''Is it the same one? It is making me sick. Does this have a soft centre? It is very hard. Does it have chocolate milk inside?'' Gitanjali licked the wrappers clean.

Gitanjali's free fall began, says her family, after she gave up her career as a designer for modelling. She studied fashion design at the South Delhi Polytechnic. Her sister Madhulika claims she got a couple of prestigious assignments, including Lakme. Then her ambition took wings.


She moved to Mumbai, fell into bad company and took to drugs. From then on her life was a corridor of men; and her only desire, the next fix. She went to Nepal, Goa, where she found a Briton who loved her but who finally left her. ''I stayed with him for a month and came to Delhi. We lived in Paharganj and it was good. I don't know why he left,'' she told Metro Now.
You can get the updates about the conversation between Gitanjali's husband and blogger over Sheetal Sethi's blog.
I wonder the level at which blogging has reached which is truly amazing.