Warning for hardline critics: My review concludes Mausam as the best  Bollywood movie of this year till now.
There were lot of expectations from this movie specially when it was being directed by a person I have liked since my childhood, a person who actually knows the taste of versatile Indian audience and till now, he was serving that audience as an actor. For first time, that actor, Pankaj Kapoor, was trying to express his thoughts in form of a movie, the thoughts which he always lived with but never got chance to show them on big screen.
Before I could go and watch this movie, many well-known critics and viewers criticized this movie for its slow pace, lengthiness and abrupt ending which made me re-think for a second if I should give this movie a try in multiplex but that was just a passing thought. I have been waiting this movie for at least a year and despite its delayed release by at least 2 months from initial schedule, director has made it a point to keep public informed through time-to-time full-page advertisements in leading Indian dailies – that was first of its kind.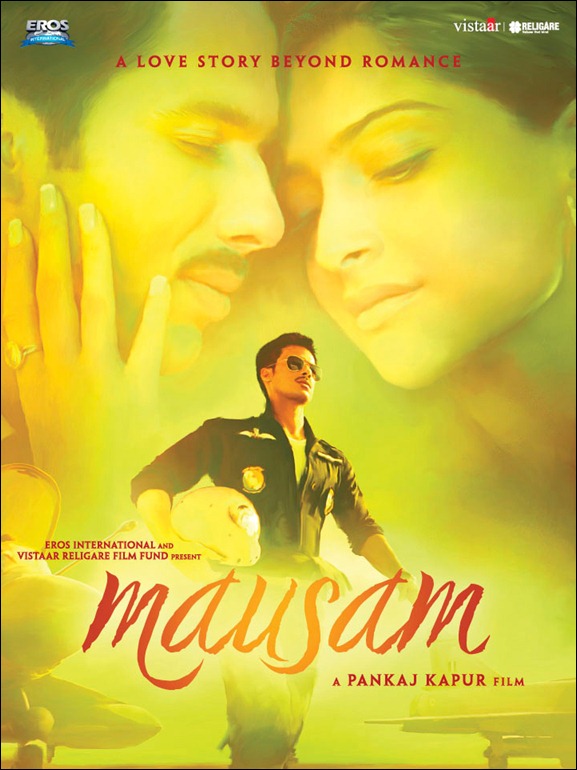 It was my first movie at Fun Cinemas, Delhi where I had company of Amit. The first 20 minutes pulled me into the movie. Never had I seen such beautiful picturisation  of Punjab and I would attribute it to the director being Punjabi himself. All the movies showing big fat picture of Punjab with shine all around don't show the actual Punjab but merely infatuate the audience and that infatuation breaks down very badly, hurting the people when they actually arrive in Punjab expecting beauty all around filled with all groovy things. I was narrated the same experience by a close friend who had arrived in a Punjabi wedding with those expectations only. This is the natural Punjab shown in Mausam which will make any Punjabi, sitting far away, feel like home.
The movie proceeds with the '89 happenings in Kashmir with mention of '84 riots, then '92 Ayodhaya and '93 Bombay bomb blasts affecting general population, making them move to different places while changing their lives. The central protagonists are shown to suffer the most as they keep trying to meet each other and these happenings keep separating them making them wait longer than ever. The actor joins air force, fights bravely in Kargil and suffers from war while the actress keeps moving from one place to other while trying to maintain contact with the actor. Movie ends with '02 Godhra riots and delivers very strong message which most of fellow reviewers didn't want to get as they looked more concerned about the heroic and unacceptable ending of movie.
One romantic story keeps running in background throughout the movie linking all these events and I believe that most of the reviewers mistaken it for the main story in the movie while criticizing it.
I believe that the director has delivered the message very loudly and clearly for which he actually made this movie that the rioters don't belong to a particular community, cast or creed but they are the people we encounter in our daily lives with the brutal animals hidden deep inside them, the people who are overpowered by their beasts when such riots break out and they try to take advantage of such happenings. These are the people who speak poison in their daily lives and when time comes, that poison inside them turns into violence, not realizing that they are killing their own countrymen, the people who used to support them by being their friends.
The movie is ended very unexpectedly while showing hero in a superhero avatar trying to save a child which looks impossible and that's where movie looses its USP to general audience which director builds throughout the movie. In whole movie, the leads are shown as ordinary people, just like other of us and we start liking them because of that and in the last 10 minutes, we are made to believe that those ordinary guys turn into super-natural personalities which can do anything out of their will-power and here director kills the whole interest of viewers. The whole movie is based on gloomy background and in the last 10 minutes, director ruins whole story while trying to make everything happy go lucky which disappoints (just opposite to how Bodyguard director actually made up for whole lost story in last 10-15 minutes).
Actors Anupam Kher and Shahid Kapoor have done marvelous job in the movie, actress Sonam didn't appeal at all like all of her other movies, Mrs. Pathak has been good as always.
The story is one of the best stories I have seen in recent times. I think that no other Bollywood director has taken such a big risk to turn such extreme story into a movie and I appreciate the audacity of director to make this movie as his debut in direction.
Concluding my review, this is the best Bollywood movie I have seen in this year so far despite its disappointing ending.
On the ending note, I would like to say that the only solution to eradicate hatred from such uneducated people is to show them the power of love realizing them that everyone in this country is part of their family, that everyone is contributing towards everyone else's wellness, has equal right to grow and prosper and no one has right to destroy lives of their fellow countrymen.
Some of my favorite dialogs from movie are –
Mujhe aisa koi bhi nasha pasand nai jo waqt ke saath utar jaye. I love life. Mujhe zindagi ka suroor hai. Suna hai jab ye nasha utarta hai to roshni hi roshni hoti hai.
Bhanayak saaye hain Aayat. Inke na chehre hote hain, na naam.
Abhi na jao chhod kar…
Rating: 7/10