Now here appears a way for having safe conversation with anonymous people before adding them to your messenger buddy list – from Microsoft. It is named as Messenger IM Control – informed by LiveSide.
Microsoft Messenger team is planning to release Messenger Presence service which will let you create a page on your website / blog in order to make visitors contact you via that page. Here is the screen-shot from the post about how would it look like in web interface –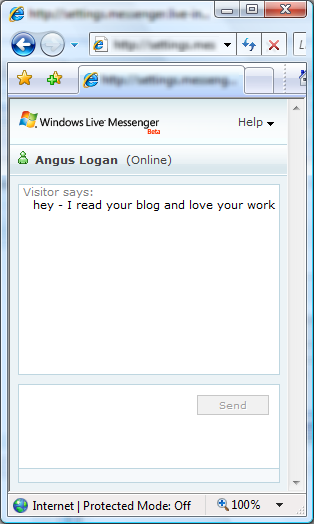 Once a message is sent to you through the online page over your website, you will be getting it in your messenger and can have conversation using the same interface.
Nice for those including me who like to mark people as friends only after knowing a bit about them.
PS: 1. Have you noticed that the LiveSide feed is from FeedBurner – is Microsoft thinking about its own feed service in future?
2. It looks like Microsoft is opening to rest of the world and slowly accepting that it can't act as warehouse of anything or everything in technology and hence limit resources to itself which will, otherwise, remove it from the race. Live Write doesn't only include support for Live Spaces but for other different blogging platforms. In the same way, Live Photo Gallery beta is also being planned to provide support for posting photos not only to Spaces but to Flickr and other different photo-hosting services.
So now Microsoft is also inside the arena to compete…Good.